2022 Nissan Armada – Connectivity
2022 Nissan Armada - Connectivity
The 2022 Nissan Armada is a three-row SUV that offers luxurious features, a distinctive design, and an enjoyable driving experience. That's not all; the Armada also boasts a roster of desirable connectivity features that all interior occupants can enjoy. Keep reading to learn more about some of these features and browse our new inventory for pricing and availability for the 2022 Nissan Armada at West End Nissan in Edmonton, Alberta.
Advanced Displays
The 2022 Nissan Armada features the largest display ever found inside the large SUV. View all the essential information you need quickly on the 12.3-inch widescreen colour touchscreen display. The Display Commander allows you to easily navigate your apps, screens, and more with centrally located controls ideally in arms reach for the driver and front passenger.
Also, feel the epitome of confidence and convenience with the Advanced Drive-Assist Display. See turn-by-turn directions, caller ID, and safety features by utilizing the user-friendly controls on the 7-inch display that lets you view what's most important to you.
Smartphone Integration
Connect how you want to with the standard and available smartphone integration options offered on the 2022 Nissan Armada. Equipped with Siri voice control, Apple CarPlay allows you to easily navigate your contacts, favourite messaging apps, Apple Music playlists, Apple Maps, and more wherever you go. All you have to do is simply sync your compatible iPhone and go.
Have an Android Phone? No problem! With Android Auto, you can keep your eyes on the road and hands on the wheel while using voice recognition to navigate your phone's features. Ask Google to respond to texts, play your favourite song, or guide you home.
Experience the ease of getting where you need to go with Nissan Door to Door Navigation. View 3D building graphics and seamless turn-by-turn direction to get where you need to go without worrying about how to get there.
Charging and Wi-Fi Technology
Charge your compatible devices without the need for any cords with the 2022 Nissan Armada's built-in wireless charging feature. Or, first and second-row passengers can benefit from USB and USB-C ports to help give your phone that extra boost. The available 120-volt AC power outlet has you covered on long road trips, allowing you to quickly charge your laptop or other electronics. Suddenly road trips don't feel so long with the dedicated Wi-Fi hotspot inside the Armada.
Premium Entertainment
Keep everyone entertained with the available Tri-Zone Entertainment System. Second-row passengers can enjoy their videos or games during long road trips, while you can control your own music choices up front.
The standard 13-speaker Bose Premium Audio System brings comfort and entertainment to every drive with its unmatched richness and detail to audio quality. As a bonus, experience even more emersion with the standard Bost AudioPilot, a system that monitors ambient noise in your cabin and actively works to cancel it out.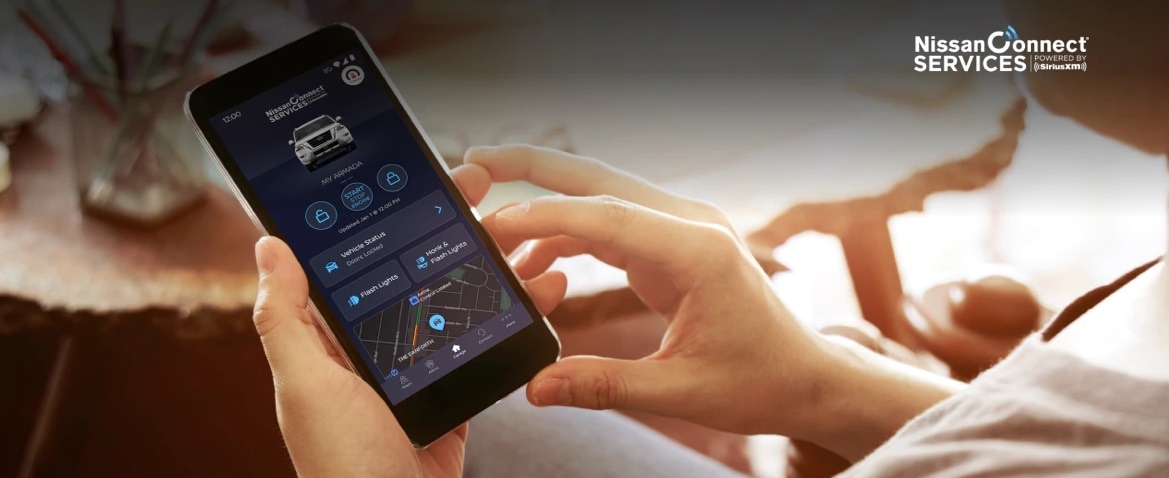 NissanConnect® Services
Choose from a selection of plans and services with standard NissanConnect Services, such as customizable alerts and emergency responses. Use this service on your compatible smartphone to easily connect with your vehicle and perform actions such as locating and starting your Armada, flashing your lights, or sounding the horn to find your Armada faster - all from virtually anywhere.
Be prepared in the Armada with its suite of connected safety services. Automatic Collision Notification calls for help if the sensors detect airbag deployment; you can also initiate an emergency call with the touch of a button if needed.
Keep tabs on your Armada whenever you need it. Set a boundary, a curfew, or speed limit, to get a notification when someone driving your vehicle goes too far, runs too late, or goes too fast. You can also search for destinations by voice and access a route with up to four waypoints, all from your vehicle, via an easy-to-use Nissan web portal.
Contact Us!
Contact us to learn more about the 2022 Nissan Armada or to book a test drive here at West End Nissan in Edmonton, Alberta.
Contact Us