Nissan Model Overview
The automotive industry is one of the most ruthless around. With manufacturers waging a constant battle to create the sleekest, most efficient, and best vehicles possible. This has-as fierce competition usually does-benefitted the customers enormously, leading to amazing innovation, stellar safety, and incredible advances in the automotive industry. Competition breeds creativity, and Nissan is one of the most competitive brands around! Here at Edmonton's West End Nissan, we truly believe in the ability of the vehicles we sell, and we are happy to compare them to any of their competitors. Click on any of the links below to see how Nissan stacks up against the competition!
2022 Nissan Frontier
2022 Nissan Frontier OverviewThe Frontier is a mid-size pickup truck that is designed for diversity. It excels with smoothness on Edmonton's roadways and can handle the rugged terrain during your off-road experience. It comes with a 3.8-litre V6 engine that is mated with a standard 9-speed automatic transmission.
2023 Nissan Pathfinder
The 284 horsepower engine V6 gives the Pathfinder the power needed and excellent fuel efficiency. Enhanced 9-speed automatic transmission makes shifts responsive and smooth while driving all four wheels. Nissan Pathfinder as it's equipped with Standard Safety Shield 360
2022 Nissan Leaf - Electric
There's excitement when you get behind the wheel of an electric vehicle. Then there's the excitement when that electric vehicle is the 2022 Nissan Leaf. For 2022 Nissan has taken its most sold EV vehicle and given automotive consumers all the features they have fallen in love with and more. The rush is still there, and now up to 363 kilometers of range with the 62 kWh battery.
2023 Nissan Rogue
You can treat your new Nissan Rogue to one of two available powertrains: a base 2.5-litre four-cylinder engine with 181 horsepower, or an available 1.5-litre turbocharged motor with a solid 201 horsepower. Both these refined engines pair with a continuously variable transmission, with an Intelligent All-Wheel Drive system available to automatically optimize traction.
2023 Nissan Armada
Those in the market for a big, brawny SUV that's easy on the eyes will want to meet the new 2022 Nissan Armada now featured in our showroom at West End Nissan. This formidable Nissan SUV joins our new inventory with a robust V8 engine, excellent capability, a truckish design, and a refined cabin with plenty of room. Whether you're located in our home of Edmonton or Stony Plain, Devon, Fort Saskatchewan, or Spruce Grove, AB.
2023 Nissan Altima
This year's Nissan Altima sedan has arrived at West End Nissan, and we're glad to report there's plenty to like about this 2022 model. In addition to its sharp styling, welcoming interior, and varied infotainment and safety technology, the new Altima boasts a robust powertrain and an engaging, dynamic drive. If you're located in our home of Edmonton or Devon, Leduc, Beaumont, Spruce Grove, or Stony Plain, AB.
2023 Nissan Qashqai
The compact SUV segment is ultra-competitive, with the majority of automotive manufacturers offering an entry. The importance of designing and engineering a vehicle that meets the needs of automotive consumers is vital if a brand wants to succeed. The Qashqai is ready for any adventure you decide to take. The 2022 Nissan Qashqai offers all the features, technology, and convenience that consumers want and need.
2023 Nissan Kicks
Don't be afraid to show off your curves and bold design in the 2022 Nissan Kicks. Not only does it feature a unique exterior design language, but its interior is practical and everything you are looking for. A suite of six advanced driver-assist technologies is sure to keep you and your family safe. A powerful 122 horsepower four-cylinder engine is paired to a continuously variable transmission.
2023 Nissan Murano
The Nissan Murano features one of the most beautiful exterior design languages available. Its smooth lines, refined features, and sleek profile combine performance and technology into one. A power 3.5-litre V-6 engine produces 260 horsepower and can accelerate to 100 km/h in just 7.4 seconds. Standard Safety Shield 360 will keep you and your loved ones safe. A beautiful interior with luxury appointments and soft-touch materials.
2022 Nissan Sentra
Low and wide is the name of the game with the 2022 Nissan Sentra. It features ideal proportions that complement its luxurious interior design. Standard on every Sentra is Safety Shield 360, a suite of six advanced driver-assist features. With technology that can connect you to the world through Apple Carplay and Andriod Auto, you are sure to enjoy every drive of Nissan's premium small car.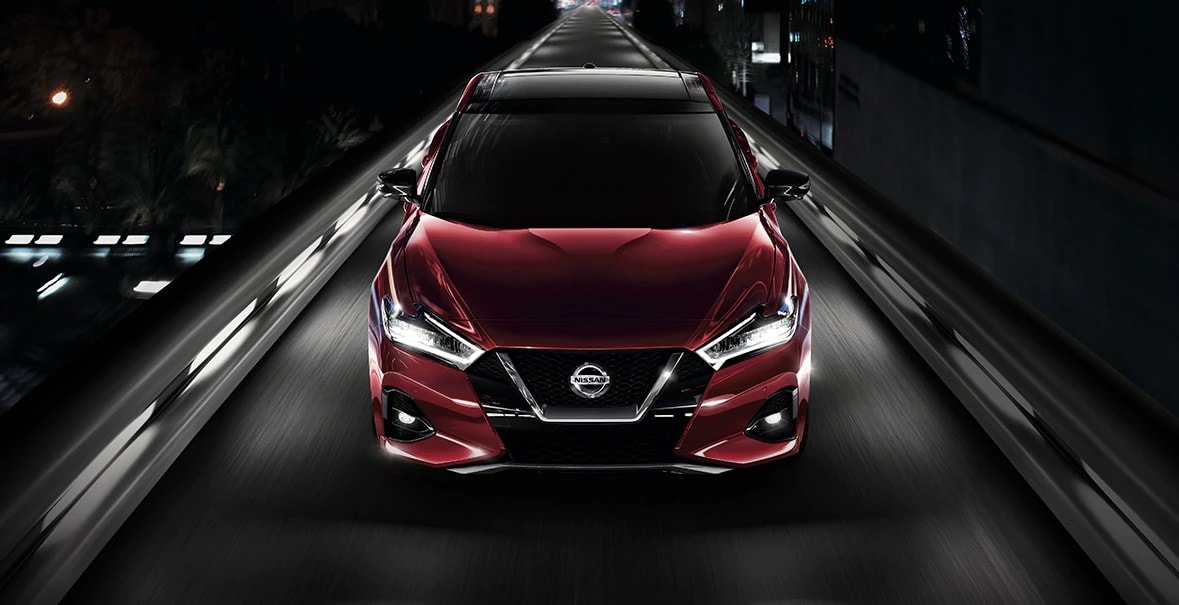 2022 Nissan Maxima
Nissan's sedan lineup is among the industry's most popular, and you won't need more than a look at the 2022 Maxima to see why. This Nissan enters the new model year with a jaw-dropping design, an upscale interior, and plenty of brawn, making it an excellent choice for anyone in the market for a well-rounded, modern sedan.
2023 Nissan Z
The impeccable seventh-generation Nissan Z is here with its iconic design and powerful engine. The future sports car has 400 horsepower with an impressive 6-cylinder under the hood. The iconic design with quality craftsmanship makes it a splendid stylish sports car.
2023 Nissan Ariya
The electric future of Nissan is here to excite you all with 2023 Nissan Ariya. It has the most reliable electric engine along with exceptionally high-end technology features.
2023 Nissan Pathfinder
2023 Nissan Pathfinder has so much to offer. A well-rounded SUV offering its occupants ultimate comfort along with impeccable capability and performance.
2023 Nissan Altima
2023 Nissan Altima is one of the greatest Sedans ever. With accelerated power and exceptional design, it will certainly become one of your top choices.
Contact Us