2022 Nissan Sentra Performance
2022 Nissan Sentra Performance
The 2022 Nissan Sentra is fun to drive compact sedan with a sporty feel and unbeatable fuel economy. At West End Nissan Edmonton, we feature this stunning car in our new inventory in its different trim levels. If you're in Edmonton, Alberta, or surrounding regions, visit us to test out its impressive performance firsthand.
Engine and Transmission
The 2022 Nissan Sentra has the same fun-to-drive 2.0-litre DOHC naturally aspirated 16-valve inline four-cylinder engine across all trim levels. Its engine features a Continuously Variable Valve Timing Control System (CVTCS) and delivers 149 horsepower at 6,000 rpm and 146 lb-ft of torque delivered to the front wheels. You can get the 2022 Sentra in your choice of either a dynamic six-speed stick shift manual transmission or a more responsive and efficient Xtronic CVT® (Continuously Variable Transmission).
Fuel Efficiency
Spend less time at the pump. The 2022 Sentra has all the feel of a sports car without the fuel consumption of one. It boasts an impressive 6 L/100 km highway fuel economy and 8 L/100 km in the city. That's an amazing Combined fuel economy of just 7.1 L/100 km. The 2022 Sentra's active grille shutters control airflow for different speeds to deliver optimal fuel economy. This car also features a driver-customizable Sentra Eco Mode setting for enhanced comfort and excellent efficiency. A Fuel Economy Screen lets you see live fuel economy numbers. It helps you monitor your driving and fuel consumption habits to become a more efficient driver. The 2022 Sentra is also aerodynamically engineered for lower wind resistance and, therefore, better fuel economy.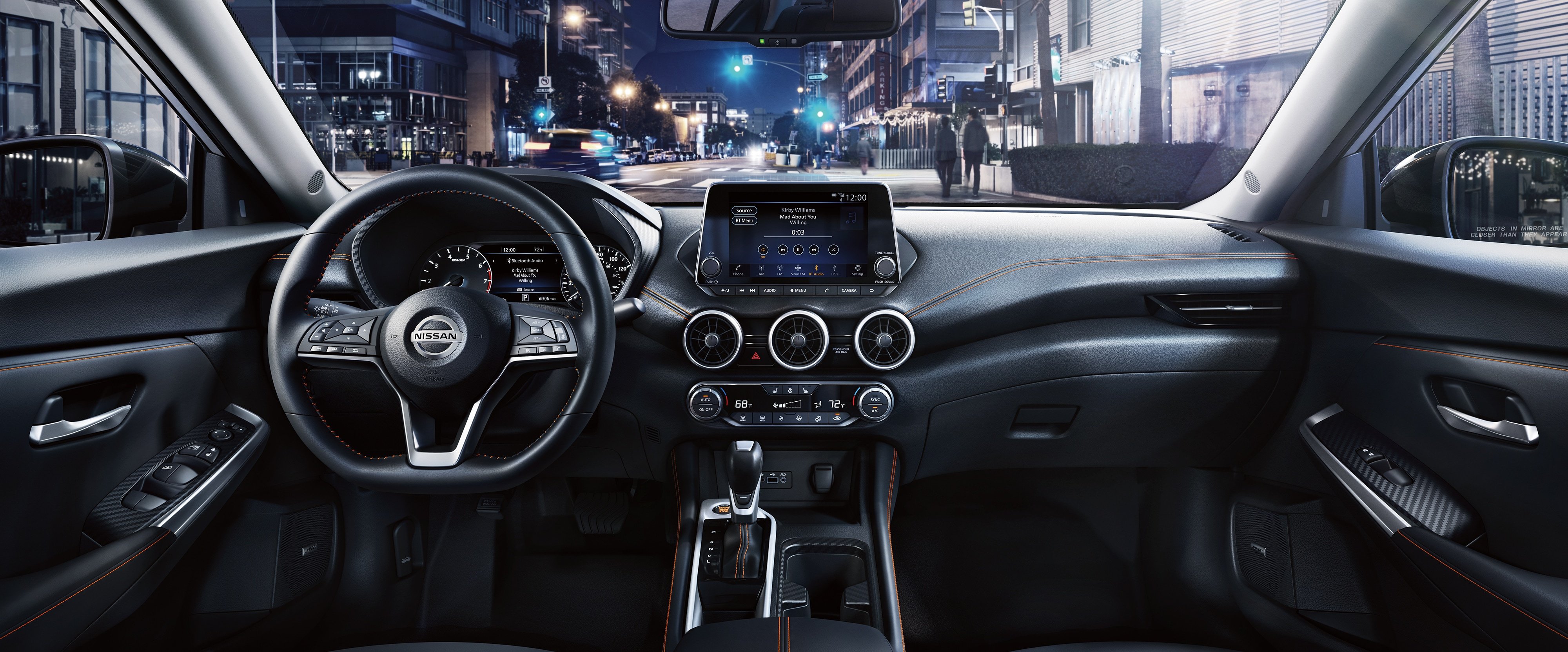 Make an Inquiry
Sentra Handling and Suspensions
With the 2022 Nissan Sentra's D-shaped steering wheel, sport suspension, and dynamic handling, you'll enjoy every moment you drive. The dual-pinion electric power steering system is communicative, responsive, and empowering. On the road, you'll experience smooth handling and a comfortable ride. The 2022 Nissan Sentra features a balancer shaft that cancels out unwanted engine vibrations. The 2022 Sentra also filters out harsh and jarring impacts for the ultimate joy of driving.
Independent strut front and rear multi-link suspension as well as front and rear stabilizer bars keep the 2022 Nissan Sentra stable and responsive. Low, wide, and sleek, the 2022 Sentra is sculpted to give the driver a sports car sense with its perfect proportions. Experience the added joy of gripping your way through corners while the road zips by a short distance beneath you.
Brakes
We are especially impressed with the 2022 Sentra braking system. It delivers a reassuring pedal feel and solid stopping power. The 2022 Nissan Sentra has front vented disc and rear drum brakes with rear solid disc brakes available on select trims. Its brakes feature an Anti-lock Braking System (ABS), Electronic Brake Force Distribution (EBD), and brake assist that contribute to the promising capability of these brakes. The 2022 Sentra comes to a complete stop in a class-competitive record time. It halted from 112 km/h in just 51 metres.
Dynamic Drive Technologies
The 2022 Sentra's Dynamic Drive Technologies create a truly smooth ride by handling the bumps, curves, and hills. This sedan has impressive stopping power with Intelligent Engine Brake. The 2022 Sentra uses the Xtronic Continuous Variable Transmission (CVT) to apply engine braking for more level and confident stopping.
Intelligent Trace Control allows the Sentra to read the situation and, if needed, allow each wheel to individually brake. It also allows you to steer more smoothly through corners. With Active Ride Control, Sentra can automatically apply the brakes and adjust engine torque to smooth out your ride. The 2022 Sentra also offers Hill Start Assist to stop you from rolling backward when you're on a steep incline.
Purchase the 2022 Nissan Sentra
Invest in your comfort by purchasing the economical 2022 Nissan Sentra. Its unmatched capability and unique features make it a great choice as your next vehicle. Contact us at West End Nissan Edmonton and get behind the wheel of the 2022 Nissan Sentra today!