2023 Nissan LEAF vs 2023 chevrolet Bolt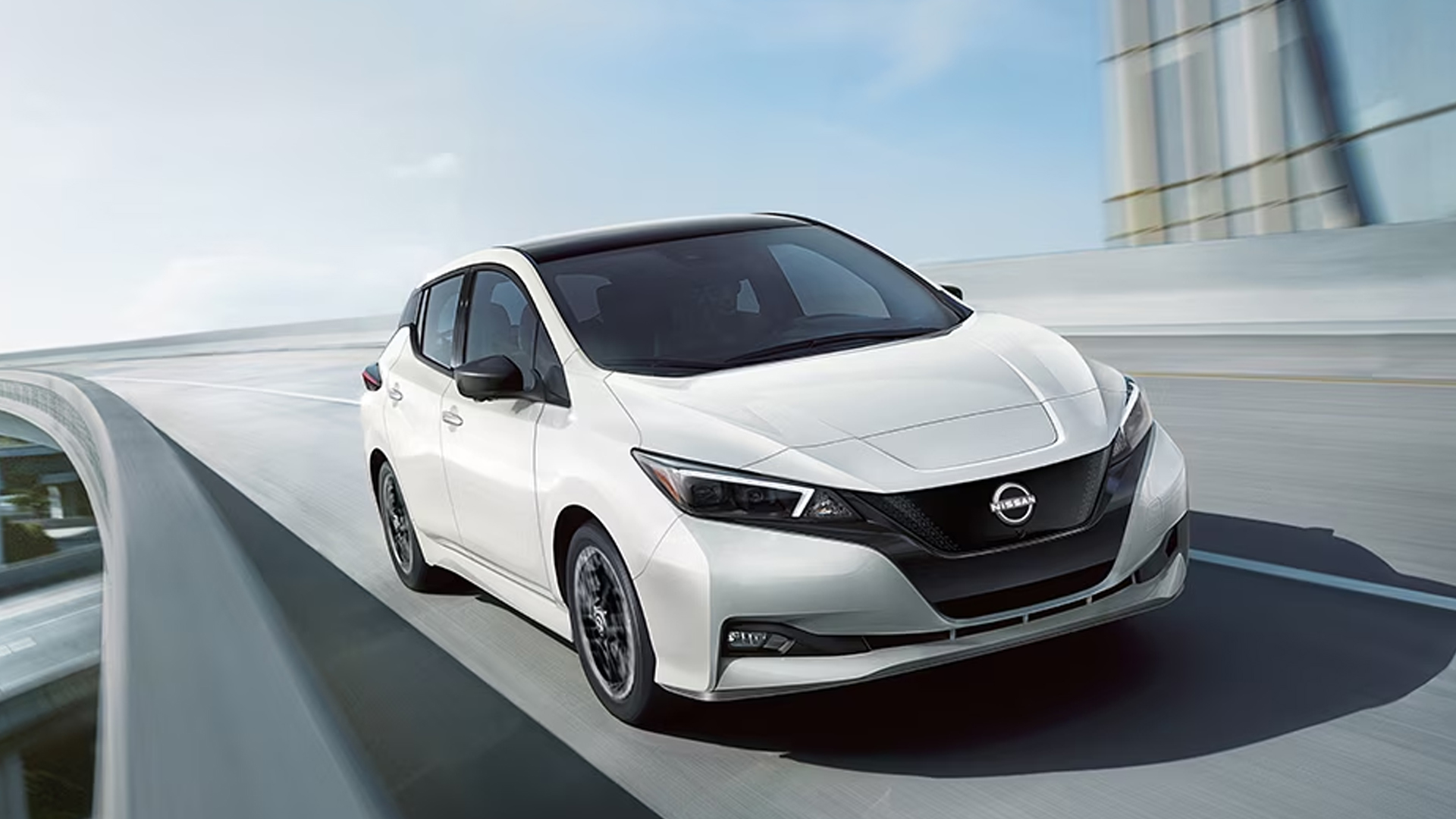 | | | |
| --- | --- | --- |
| | 2023 Nissan Leaf | 2023 Chevrolet Bolt |
| MSRP* | $44,093 | $41,574 |
| Engine litres (L) | NA | NA |
| Cylinder configuration | NA | NA |
| Horsepower (hp) | 147 | 200 |
| Torque (lb.-ft.) | 236 | 266 |
| Fuel economy - city (L/100 km) | 2.0 | 1.9 |
| Fuel economy - highway (L/100 km) | 2.0 | 2.3 |
| Fuel economy - combined (L/100 km) | 2.0 | 2.1 |
| Exterior length (mm) | 4,481 | 4,306 |
| Exterior body width (mm) | 1,791 | 1,770 |
| Exterior body height (mm) | 1,565 | 1,616 |
| Wheelbase (mm) | 2,700 | 2,675 |
| Interior cargo volume (L) | 668 | 462 |
| Maximum interior cargo volume (L) | 850 | 1,611 |
| Front legroom (mm) | 1,069 | 1,124 |
| Rear legroom (mm) | 851 | 993 |
| Front headroom (mm) | 1,044 | 992 - 1,016 |
| Rear headroom (mm) | 945 | 960 |
| Front shoulder room (mm) | 1,379 | 1,387 |
2023 Nissan LEAF vs 2023 Chevrolet Bolt
The 2023 Nissan LEAF and the 2023 Chevrolet Bolt are notable contenders in the electric vehicle market. This comprehensive comparison will explore their exterior design, features, safety technologies, and performance capabilities. By examining these aspects, we aim to assist you in finding the electric vehicle that aligns with your needs and preferences.
Exterior, Interior, and Safety
The 2023 Nissan LEAF and the 2023 Chevrolet Bolt have daytime running lights and automatic headlights. Additionally, the Bolt offers integrated turn signal mirrors, enhancing safety and convenience.
Inside the cabin, the Nissan LEAF showcases a well-assembled interior with well-textured black plastics that avoid a cheap appearance. The gauge cluster features a large analog speedometer alongside a 7.0-inch digital readout that can be customized to display various information.
On the other hand, the Chevrolet Bolt elevates its cabin with an upscale design, incorporating improved materials and soft-touch surfaces. The steering wheel now features a sleek flat bottom, complemented by an 8.0-inch fully digital gauge cluster.
When it comes to safety, the Nissan LEAF offers standard driver-assistance features through its Safety Shield 360 suite, including automated emergency braking with pedestrian detection, and blind-spot monitoring
Advantages and Comparisons
One significant advantage of the Nissan LEAF is its offering of two powertrains. The Leaf S, equipped with a 40-kWh battery, is paired with a 147-horsepower motor, while the SV Plus, featuring a 60-kWh battery, comes with a more potent 214-horsepower engine. Though the 2023 model has yet to be tested, based on the unchanged motors, we expect similar acceleration performance to the equivalent 2022 version, reaching 100 km/h in approximately 6.5 seconds.
On the other hand, the Chevrolet Bolt only offers a single motor, available for both 1LT and 2LT trims. This 200-horsepower powerplant allows the Bolt to reach 100 km/h in just 6.3 seconds, providing a spirited driving experience.
Contact Us
In conclusion, the 2023 Nissan LEAF and the 2023 Chevrolet Bolt offer distinctive features and capabilities in the electric vehicle segment. While the LEAF provides the option of two powertrains and showcases a well-assembled cabin, the Bolt offers a refined interior design and impressive acceleration performance. This comparison lets you determine which electric vehicle best suits your needs. Contact Us!
*All pricing is based on Ontario MSRP and does not include taxes and fees. Dealer pricing may differ. Prices are subject to change anytime without notice.
Make an Inquiry