2023 Nissan Sentra vs 2023 Hyundai Elantra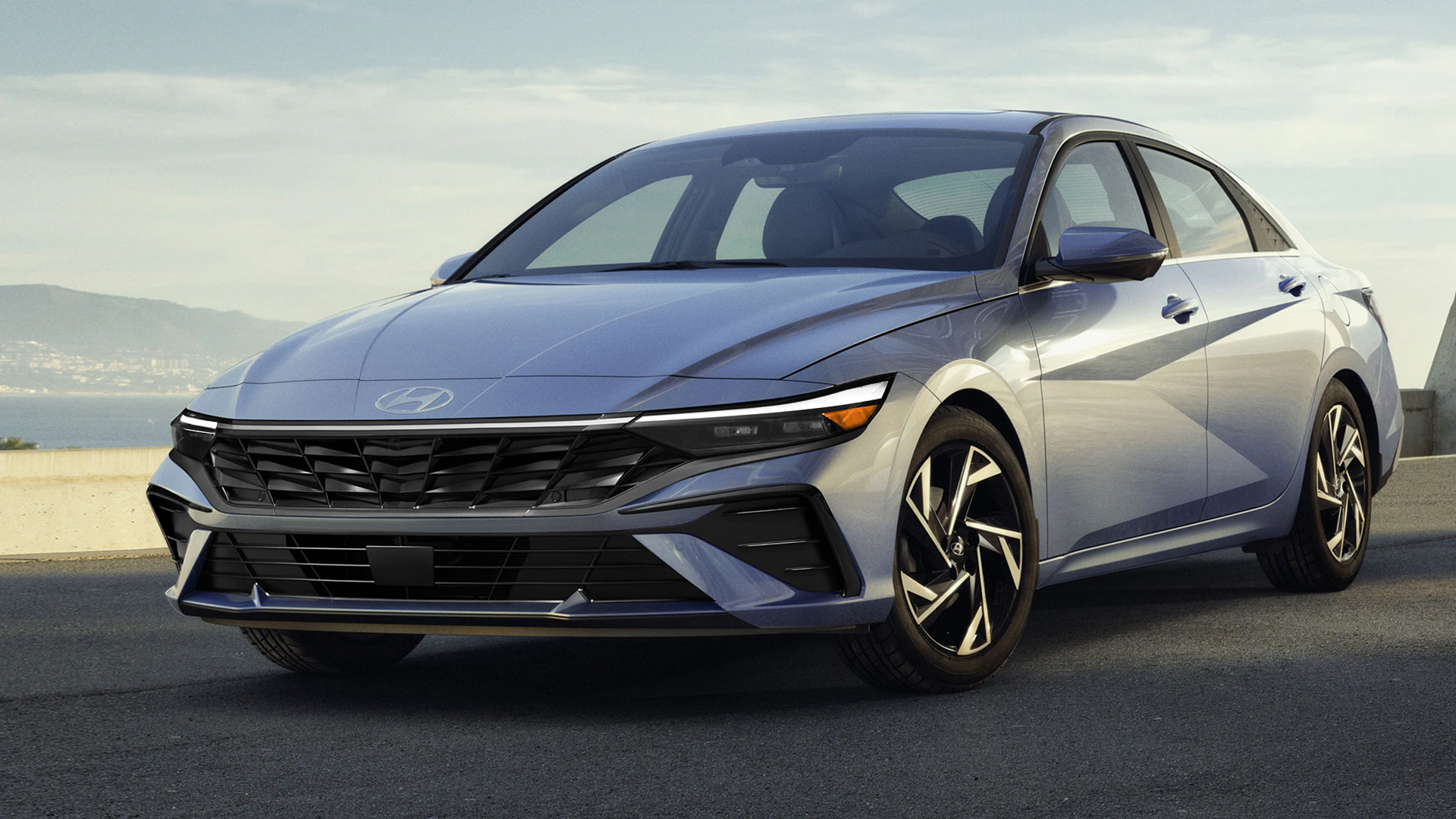 Trim Comparison Chart 
| | | |
| --- | --- | --- |
| | 2023 Nissan Sentra | 2023 Hyundai Elantra |
|  MSRP* | $23,653 | $22,956 |
|  Engine litres (L) | 2.0 | 2.0 |
|  Cylinder configuration | I4 | I4 |
|  Horsepower (hp) | 149 | 147 |
|  Torque (lb.-ft.) | 146 | 132 |
|  Fuel economy - city (L/100 km) | 9.2 | 7.1 |
|  Fuel economy - highway (L/100 km) | 6.2 | 5.5 |
|  Fuel economy - combined (L/100 km) | 6.2 - 9.2 | 5.5 - 7.1 |
|  Exterior length (mm) | 4,641 | 4,676 |
|  Exterior body width (mm) | 1,816 | 1,826 |
|  Exterior body height (mm) | 1,448 | 1,415 |
|  Wheelbase (mm) | 2,713 | 2,720 |
|  Interior cargo volume (L) | 450 | 402 |
|  Maximum interior cargo volume (L) | 450 | 402 |
|  Front legroom (mm) | 1,118 | 1,074 |
|  Rear legroom (mm) | 884 | 965 |
|  Front headroom (mm) | 988 | 1,031 |
|  Rear headroom (mm) | 932 | 947 |
|  Front shoulder room (mm) | 1,433 | 1,435 |
2023 Nissan Sentra vs 2023 Hyundai Elantra
When it comes to compact sedans, the 2023 Nissan Sentra and the 2023 Hyundai Elantra are two popular choices. Both cars offer a combination of style, features, and affordability. In this comparison article, we will examine their differences closely.
Exterior, Interior, and Safety
The 2023 Nissan Sentra has a modern exterior design. Its sharp lines, bold grille, and stylish LED headlights exude a sense of sportiness and elegance. On the other hand, the 2023 Hyundai Elantra features a more futuristic design. Its aerodynamic shape, striking LED daytime running lights, and cascading grille make it stand out on the road.
Inside, the 2023 Nissan Sentra showcases a well-designed interior. The driver faces a set of simple analog gauges surrounding a 7.0-inch display screen. The dashboard features circular air vents and sturdy climate controls.
The 2023 Hyundai Elantra's interior matches its striking exterior design. The dashboard and center console wrap around the driver, creating a driver-focused space. A single LED strip spans the dashboard, adding a touch of modernity.
When it comes to safety, the 2023 Nissan Sentra comes well-equipped. It offers a range of standard driver-assistance technologies, including forward-collision warning, automated emergency braking, and rear automated emergency braking.
The 2023 Hyundai Elantra also prioritizes safety with a host of standard features. These include automated emergency braking with pedestrian detection and other advanced safety technologies. Furthermore, it offers an available adaptive cruise control system with a lane-centering feature.
Advantages and Comparisons
The 2023 Nissan Sentra and the 2023 Hyundai Elantra have their advantages. The Sentra offers a prettier interior design with upscale features like quilted leather upholstery, while the Elantra impresses with its futuristic cabin layout and LED strip accent.
Conclusion
In conclusion, the 2023 Nissan Sentra and the 2023 Hyundai Elantra are strong contenders in the compact sedan segment. Performance-wise, they are evenly matched in terms of horsepower, but the Sentra has an edge in power delivery. Choosing between these two cars ultimately boils down to personal preferences and priorities.
*All pricing is based on Ontario MSRP and does not include taxes and fees. Dealer pricing may differ. Prices are subject to change anytime without notice.
Make an Inquiry