Nissan Connect Bluetooth Guide 101 in Edmonton, AB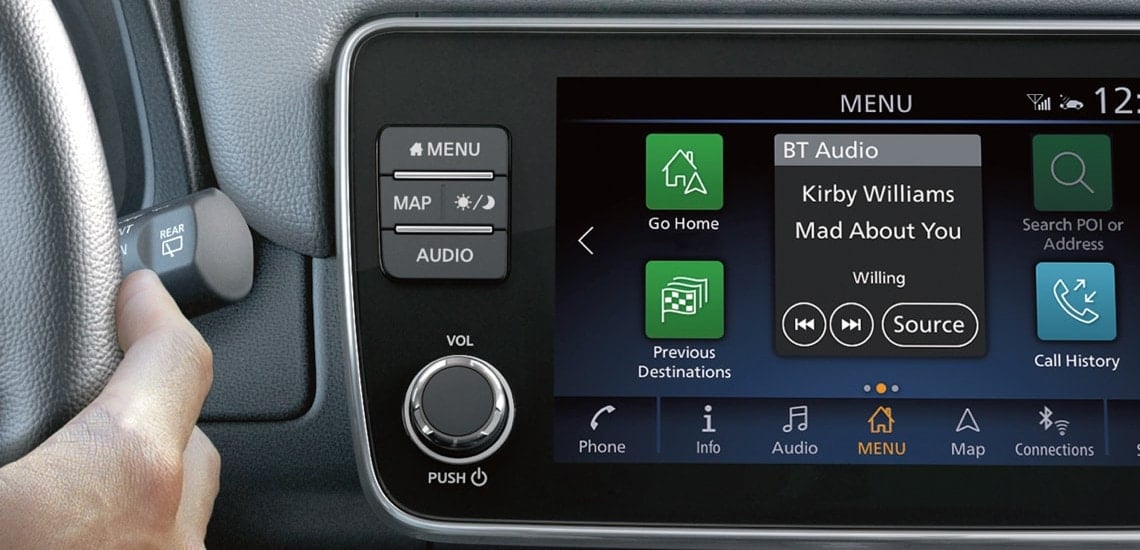 Nissan Connect Bluetooth Guide 101 in Edmonton, AB
Bluetooth capability plays an integral role in every Nissan model's tech suite, and we're here to fill you in on how to activate it in your vehicle for an optimal, connected ride. No matter which Nissan from our new inventory you call yours, learn more in the Nissan Connect Bluetooth guide below, and contact or visit West End Nissan in Edmonton, Alberta for more information.
Nissan Bluetooth Connectivity with Apple & Android
Whether you own an iPhone or Android, start by ensuring that your device's Bluetooth is activated. If your Nissan doesn't include a navigation system, choose Enter/Setting on your vehicle's audio system, then Bluetooth, then Add Phone, both for iPhone and Android. You can then return to the settings on your iPhone, choose Bluetooth, then MY-CAR, and add the matching PIN number to finish your connection. As for Android, just select Scan for Devices in your settings, select MY-CAR once it appears, and input the passcode displayed on your Nissan to complete the connection. If your car includes navigation, just select Phone on your infotainment system, then Connect, and Connect New Device for both iPhone and Android.
Nissan Bluetooth Troubleshooting
If the above-mentioned steps aren't working, you can follow a few troubleshooting steps to get your phone connected. Firstly, make sure no other devices are still connected to your Nissan's Bluetooth, and remember to keep your phone close to the system for optimal signal strength. Remember to check if your phone has a good enough charge or plug it in if needed, and keep any coins, pens, or other metal objects away from your Bluetooth device just to be on the safe side. If you're still struggling to connect your device, we suggest making a service appointment request with our dealership for a proper diagnosis.
Contact Us
For more on how to connect, troubleshoot, and enjoy your Nissan Bluetooth connectivity, contact us at West End Nissan today.
Contact Us