Nissan Electric Vehicles For Sale in Edmonton, AB
At West End Nissan, we strive to support our customers as they shop for and explore the newest Nissan models from our new inventory, including all-new electric models. However, the current Nissan lineup has two excellent options when shopping for a new all-electric Nissan, including the 2023 LEAF and 2023 ARIYA. You are welcome to stop by our showroom anytime to explore these Nissan EVs, and be sure to book a test drive to experience both models firsthand.
New Nissan Electric Model Lineup
Nissan LEAF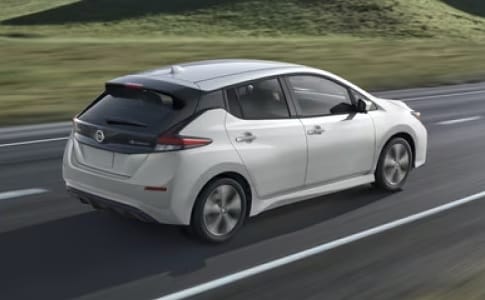 The Nissan LEAF is available with a standard 40-kWh electric battery or an optional 60-kWh battery pack. However, when equipped with the larger battery pack option, this Nissan EV provides an all-electric driving range of 342 kilometres. Also, this Nissan EV has a standard 110-kW electric motor, which can be upgraded to the available 160-kW electric motor for more output and responsiveness. Three trim levels are available for the new Nissan LEAF, providing access to desirable features and options.
Nissan ARIYA
The Nissan ARIYA is an all-new electric crossover SUV offering six trim levels that can be equipped with different electric motors and battery packs. Also, you can choose a front-wheel-drive model or an all-wheel-drive variant, giving you the desired driving experience you are after. Nevertheless, this Nissan offers a maximum driving range of 490 kilometres with the 89-kWh battery option. Also, you can configure this electric SUV to have 389 horsepower and an acceleration time of 5.1 seconds to 100 km/h.
Contact Us
A new Nissan EV brings no compromises and all the desirable features you seek, making it an excellent option when shopping for a new vehicle. Whether you wish to learn more about the new Nissan LEAF or ARIYA, contact us, and our experts will gladly support your search for the perfect Nissan for you and your loved ones.
Contact Us